MBT's 2014 Relocation to a beautiful new space at 220 Perry Parkway, Gaithersburg:
A short video highlighting MBT's relocation and buildout. Thank you for your gifts to make this new space a reality for our students and community.
Why MBT Needed to Relocate in 2014: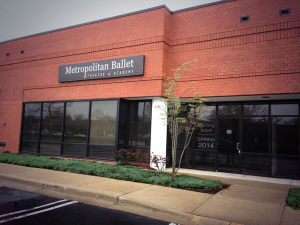 MBT was in the same space from 1989-2014 at the corner of Rt. 28 adn Travillah Road, but was required to vacate in 2014 for a new Walgreens development planned on teh same lot. The need to relocate came at a good time because we were bursting at the seams, and we desperately needed to expand to better serve our students and the community.
After an extensive search, MBT signed a 15-year lease for a 7732 sq ft space at 220 Perry Parkway. This space represents a significant physical and programmatic expansion. The floor plan shown here is representative of what the new floor plan looks like.
New Location Highlights:
7732 sqare feet of space (we previously had approximately 2400 not including the common-area restrooms).
3 class/rehearsal studios instead of 2, all with Harlequin-brand and Harlequin-installed sprung dance flooring and vinyl floor covering, state-of-the-art integrated audio systems, and more.
Much higher ceilings than in previous space.
Lots of natural light.
A larger waiting space for students and parents to relax or study, with free wi-fi complements of a corporate sponsor, Pillar One Consulting.
Our largest studio in the new space is more than double the size of our previous largest studio, and is convertible to an in-studio performance theater able to seat 60-80 patrons.
The new in-studio performance theater gives MBT the ability to host more guest artists, bring in groups of school students for outreach performances and field trips, host a more intimate series of student and professional performances throughout the year, and provide opportunities for other dance groups looking for proper rehearsal and performance space.
This new space serves not only our students, but also the greater Montgomery County arts community. Our new in-studio theatre is available to other dance groups for rehearsal or performance space; availability of proper sprung dance flooring for such organizations is minimal in this part of Montgomery County.